The cost of dental check ups and cleanings can be a huge set-back financially. Yet, oral health is so important to your overall health. So we want to help!
Introducing the Karma Program
The Karma Program is an option for all citizens that need a flat-rate, no-frills visit to our clinic. Karma Cleaning appointments are available to all and are $200. Kids 6-12 are only $150, and children under 5 are $55!
Who is the Karma Program created for?
The Karma Program especially helps those who are uninsured. If you haven't been for a check up or cleaning in more than a year, this is probably the option you will want to take. It's a set price that you can budget for, with no surprises when you go to pay.
​
The appointment structure is designed to educate the patient on oral health care, and how to practise preventative oral care to avoid costly procedures or health problems in the future.
Many citizens have trouble fitting regular oral care and cleanings into their budget, especially if they are uninsured. This can lead to some people going years without a cleaning, even when they are in pain. As a response to the overwhelming number of Albertans who cannot access oral health care due to financial restraints, we created the Karma Program. It's hard to predict what a bill will be at the end of a visit to the dentist, so the Karma Program creates a fixed amount that patients can expect and budget for.
​
As an educational program, we focus on giving you information about how to get your oral health care back on track. Most importantly, we explain the "why"!
​
This is a big part of Citizen Dental Hygiene's community-focused approach to business.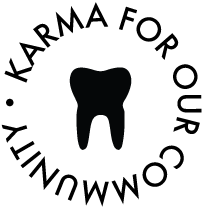 When you book your first appointment at Citizen Dental Hygiene, ask to be booked in for a Karma Cleaning. During your appointment, you get a consult with the dental hygienist and 2 units of scaling (removing plaque and tartar build up) and two bite-wing x-rays. If it's been more than 12 months since a patient has has seen a dental hygienist, all the work may not be able to be completed in one session.
All our appointments come with preventative oral care tips and tricks and information about oral health by our dental hygienist, so you can continue to maintain your oral health from home. The Karma program cleaning is a great way to consult with the dental hygienist to see where you are at with your oral health care, and how you can get it back on track.
The dental hygienist will be able to give you some treatment option suggestions, should they think further work is needed. The referring dentists at the same location will be able to help you if any further treatment is needed. Financing is an option for seeing the dentist.
​
If you have any questions about if the Karma Program is a good fit for you, please contact us by e-mail or call 403-457-0250.
*Please note that some conditions may apply*